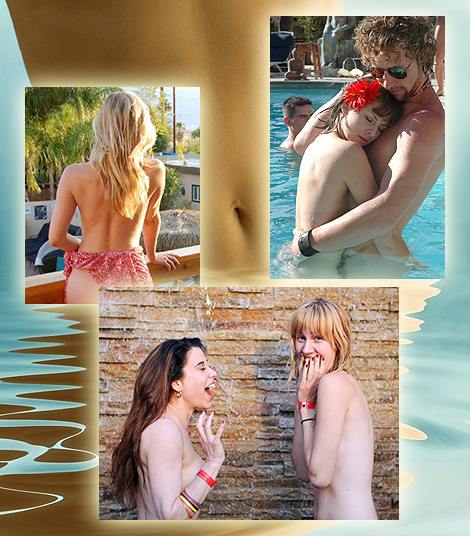 Clothing Optional Information
Now enjoy the fresh curative spring water nude pool and European style tanning spas for the most awarded VIP day in California – A true very up scale safe, clean, no pressure experience – Sip your drinks by the pool clothes free as the sun heats your body – Watch the stars in nude bliss or party hearty at the only nude resort facility that lets you be you – a VIP resort that caters to Females and couples only – The only experience in California or the USA of it's kind. Nude or prude, it's a safe and fun environment. Our guests are from all over the world.
We have the ultimate spring water curative nude, heated whirlpool and pool for nude tanning and swimming every day of the year. We have the wondrous Nudist Resort Pool Garden for luxuriating in the sun. You can use all of our facilities indoors and out clothes-free 24 hours per day. Sip drinks all evening for romance or socializing. All other spas close by 6 in the evening. The Sea Mountain spa is open every day of the year for your ultimate pampering experience. Many other hotel pools close from October to April – Imagine you are at the best nude resort pool and whirlpool open every day of the year. A truly SAFE, UP SCALE experience for those contemplating their first encounter with clothing optional recreation and retreat or those world travelers seeking a Lifestyle and up scale nude resort. – Feel the vibe of Jamaica, Hedo or Desire, Cancun all day and night. It's a lifestyle friendly, no pressure, no stress experience.
For discriminating visitors only – Safety and privacy for you our VIP guests is our priority.
The most SAFE environment free of lurkers. The clothing optional gardens, pool and spa are for clothes-free recreation. Other spa areas and dance areas are of course clothing optional, meaning you may wear a towel, wrap or sarong, and in the eves it's Lingerie and Less – Your comfort is our gift – This is the ultimate VIP, no pressure resort spa. One of the most unique experiences in the world. Our upscale guests are of all ages over 21, from all over the world. Please be aware our pool and spa areas are clothes free environments – No bathing attire in our pool and whirlpools except for special events! Enjoy a clothes-free day or night. If you have never been to a facility with clothing optional areas we promise you will feel comfortable in this very special spa. If you love Hedonism in Jamaica, or Desire this is your new home. Keep in mind that the Sea Mountain Nude Resort is of course smaller than other places – While we only have 15 amazing suites we do have up to 120 other couples who come for the day or night spas. While other nudist resorts or nude resorts ask that you be quiet and still, we think that you deserve to chill or get up and dance, meet new friends or retreat in quiet bliss and upscale spa lifestyle fantasy unfolds.
Many celebrities do enjoy this special opportunity for nude pool and coed tanning in this world class Palm Springs / Desert Hot Springs setting. They too find it hard to find such a safe secure environment to retreat and enjoy the bliss of nudity. With Nudist pool and stress free privacy this is the ultimate California VIP experience. Come for a day or night you will never forget. What happens in California happens at Sea Mountain Ranch. Whether you come alone, with friends, or with a lover, our passion is to please you in one of the most refreshing days or nights in California. Meet new friends and keep the old. Or retreat in tranquil privacy. We never sell, rent or release any information of any guests.
The Sea Mountain is a wonderful palace of retreat for those who love an exotic club area with nude spas, sauna, 24-hour dancing and indoor area for whatever weather. The perfect nudist or Lifestyles clothing optional experience indoors and out. Whatever the climate, whatever your attitude you are certain to find what ever desire for your day or night at the Sea Mountain.
We even have special adults only fantasy parties on weekend nights! The nights heat up with fantasy evening and sensual club! Reserve our weekend parties as they sell out most weekends
Sea Mountain Ranch is available for single women and couples only. For those who rent the entire spa estate for private functions such as VIP events or weddings you may use the facilities in any manor of your comfort. We welcome groups of women for un-harassed spa days and retreat. Because the Sea Mountain is only for couples and women. A safe up scale environment is enjoyed by all. Enjoy the highest ranked best of California where you can free yourself and indulge in your private fantasy! Less stress less clothes.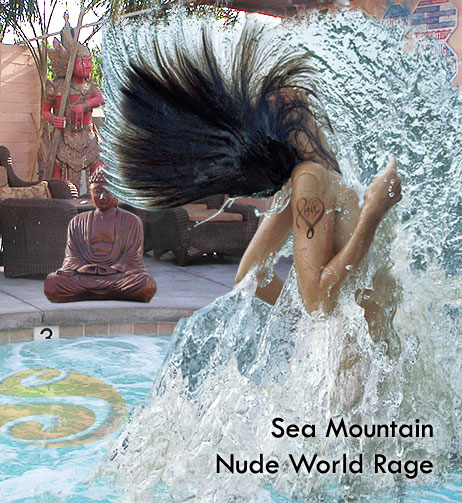 Awarded "Best Of"
Numerous acclaim for all Sea Mountain Celebrity hideaways
See what they are saying about our various locations.
~ New York Times best of the world
~ LA Magazine best of issue 2013 2014 2015 2016, 2017, 2018, 2019, 2020 & 2021
~ 5 Stars by Hotels Portal Plus
~ ESQUIRES MEN'S LUXURY DESTINATION 2021
~ MTV and VH1 Best of Celebrity Secrets
~ aol.com – Top 5 places in the world to get naked
~ FHM – Best of Los Angeles
~ CAB BE – Best of the USA
~ Elites guide 2021 – Best Boutique USA
~ MSN – Best Celebrity SPA in the USA
~ Google – Favorite Place awards 2009-2021
~ City search – Highest rankings in California
~ World's Most Distinctive Inns – Five Star rating
~ Europe Sun Times – Couples VIP Best Of
~ What Magazine – Los Angeles best day trip
~ Allure – Best Spas
~ Best sensual spa USA – Seattle Times
~ NPR Radio says: Luxury Resort – One of the most unique positive experiences in California
~ Bed and Breakfast – Best of SPAS and Bed and Breakfast
~ 944 Magazine the celebrity Luxury hideaway for play
~ UK Times – Best bed and breakfast three years ratings
~ LA Weekly – The best place to retreat Nude best of LA weekly 2021
~ Hedonism Lifers – The only thing with the Jamaica / Hedo vibes in the USA
~ Tokyo Times – California's First adults only spa and clothing optional retreat not to be missed Spend the Day or Night
~ Spafinder – Best couples massage – The only nude couples spa that matters
~ GQ – Most sensual resort
Nude Resort San Diego Nude Resort Los Angeles Nude resort lifestyles club Los Angeles nude pools.  it's all right here
Remember to join and post in your Sea Mountain Lifestyles Online Group. Here is where you can meet new friends and find out the true inside scoop from other members on events and past guests of the world famous Sea Mountain Resort. We encourage all of you to post – It's YOUR VIP group!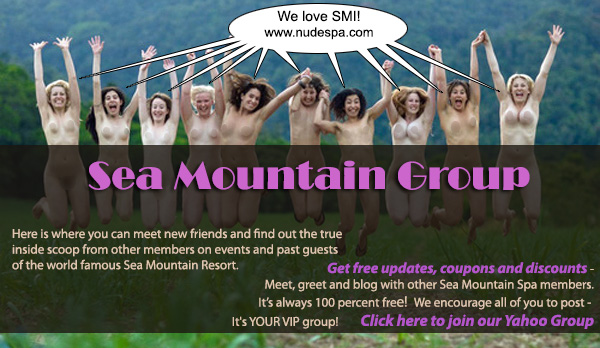 Click here to join our Sea Mountain Lifestyles group
(https://playareas.com/)